Whether you are in Paris for art, shopping, nightlife, or an overall cultural experience, there's a perfect spot in the city for you to stay. Do you want to know where is the best area to stay in Paris? This blog will lead you through all your favorite neighborhoods in Paris and help you understand which one is best for you to visit. Before we do that, I need to drop some foundational geographical knowledge about Paris on you. If you want to know where to stay in Paris then this blog is for you.
France is no doubt the world's most popular tourist destination, attracting 89 million visitors every year. According to the recent statistics, it's once again the world's first tourist destination on Holiday vacations. Calling Paris the heart of France and even Europe would not be wrong. Paris is one of the most fascinating and beautiful cities on earth. It captures both your heart as well as the soul. 
Paris is split into what we call Arrondissements, which are similar to districts. If you are looking into the center of the city, the arrondissements are organized like a spiral. Moreover, Paris is divided into 20 arrondissements. Each with its unique charm and characteristics, but that all depends upon your taste and affordability. However, one crucial thing that these Arrondissements are so well connected through Metro is that it doesn't matter where you live in Paris; your destination is just minutes away.
If you're planning to go to Paris, you most likely watch some French films and might hear the terms Rive Gauche and Rive Droite, which means Left bank and Right bank. Rive Gauche is on the south side of the Seine, that's where you can find the Latin Quarter, which is super famous, and La Sorbonne University, which is counted as a mega-famous university in France and all over the world.
Historically, a ton of students lived there and was on the low side of the Seine. The River Droite is on the north side of the Seine, which includes all the wealthy combinations. So, the left bank was low, and the right bank with rich. Paris is like a super expensive city, so there is no class difference from the right to the left side but just different accommodations and different feels. Saying this would not be wrong that all class difference concepts have been eroded to make Paris one of the world's mighty cities.
You need to know to sound like a local when you are in Paris in the neighborhood, so we went over the fact they're called arrondissements, but the locals refer to them like fifth. Instead of the fifth arrondissement, they would say, going to the 5th or the 18th or wherever they are going. It's just like a way to do things locally.
Out of 20 arrondissements, we've narrowed down the top five that we recommend staying in because of their characters, the attractions, and overall vibe. So let's take a look and explore each one independently.
4th LE MARAIS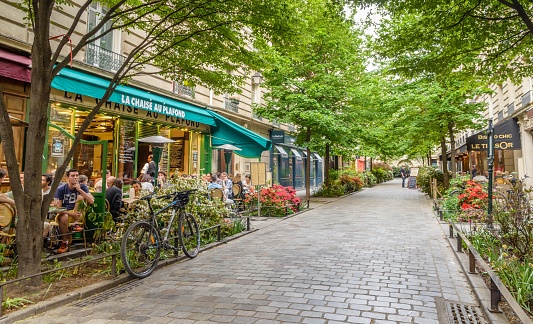 I am starting with one of my favorites, LE MARAIS. Known for Chic boutiques, Jewish quarters, LGBT scene, and neighborhood feel. But very close to the main attractions like the Louvre. Le Marais brim over from the 3rd arrondissement into the 4th, so it is tough for the layperson or for even locals to pinpoint which one exactly it's really in. so we can say both. The neighborhood is known as one of Paris's most chic and diverse spots and has exceptional cuisine. This is one of the best neighborhood to stay in paris. Most of Paris does but this one particular. However, Le Marais wasn't always a hip culture or hub spot. Interesting fact, Le Marais translates for the swamp.
Since the 16th century, the land was where the city's vegetables were grown in irrigated fields. During the 16th to 18th century, the bourgeoisie, the wealthy class, developed the land and built residencies. Whether or not you decide to stay in Le Marais, you need to enjoy a meal there.
If you want to explore, you know terrific places to eat, drink champagne and eat oysters, and try typical traditional Persian sit-down cuisine, we recommend our Le Marais Paris food tour. Local Persians designed it, and it's a fantastic taste of Paris and nightlife and cuisine. It's the best way to experience your favorite district in the city.
Le Marais is most famous for being home to Jewish and gay quarters of Paris. Beyond that, it's also famous for shopping. If you want to pursue independent boutiques rather than posh designer Stores, this neighborhood is a definite thing to check out.
While you are in Le Marais, make sure you check out the place Des Vodges Paris oldest square. You know there's also Notre Dame, which is technically not located in Le Marais but is still considered the 4th arrondissement, so be sure to check it out as well.
Read more: WHERE TO STAY IN ROME-BEST NEIGHBOURHOODS
5th Latin Quarters

So on to the Latin Quarters, known for book stores, student population, Dive bars, NGBT friendly, accommodations, and restaurants. The Latin Quarters is a great neighborhood we recommend staying in a while Paris. It's located in Paris 5th arrondissement. It is home to Paris's oldest university, La Sorbonne.
The Latin Quarter is a lively neighborhood, mainly inhabited by students; the district got its name from a high concentration of Latin speakers around the La Sorbonne university campus. In middle age, an excellent market street where you'll be able to find cheeses, bread and pretty much anything and everything you've ever wanted to eat in France.

The 5th arrondissement is on the left bank but borders a river, making it an ideally central location. Major metro stops included Saint Michel and Place Monge. You'll also find the famous Shakespeare & Co Bookstore in the Latin Quarter, arguably one of the most famous bookstores on earth. The story you see today is a remodel of the Shakespeare & Co shop that existed in 1941. It closed during the German Invasion, and now we have it reopened. When the store reopened, it becomes a popular research and writing hub for literacy greats like F. Scott Fitzgerald and Ernest Hemingway. Located a bit south of Latin Quarter, you can find Montparnasse, another charming area in Paris that's fun to walk around here. You will find lots of creperies as well as the Cartier Center of Contemporary Art.
You will also find the Paris Catacombs, one of my favorite places to check out in Paris. This underground network of tunnels is created due to the lack of grave space in Paris and now house the remains of over six million bodies. If you enjoy eerie stories and mystery, then this is the best place to stay in Pairs. This place is not to be missed. 
It's important to note that the line to enter the Paris Catacombs can last two to three hours, especially during summer, peak tourist season. So skipping the lines is vital when visiting the ossuary.
Because of the Latin Quarters student population and high concentration of dive bars, bookstores, coffee shops, and other perks for traveling on a budget, we recommend staying in this area if you are part of the youngster crowd. However, its close neighbor St. Germain De Pres is right by this area and offers a more upscale ambiance.
Read more: BEST VACATION DESTINATIONS IN THE USA YET TO BE EXPLORED
6TH ST. GERMAIN DES PRES
It is known for Luxurious Shopping and Hotels. If you are seeking a classic Persian neighborhood feel, stay in the 6th arrondissement. The St. Germain de Pres neighborhood is filled with countless bars and cafes, including the oldest restaurant in Paris, Le Procope, founded in 1686. The streets are covered with a fascinating history; this is where Ernest Hemingway and Albert Camus dangled and where the famous artist Pablo Picasso painted the famous Guernica.
As you walk the streets of St. Germain, you'll find that something seems very familiar. Most of the classic paintings of Persian cafes are most likely inspired by iconic restaurants that line the streets, such as Les Deux Magot and cafe de Flore. If you are looking for where to stay in Paris with family then this is the best place. On the 6th, you'll be only a short walk from beautiful Luxembourg Gardens and Musee D'Orsay, known for its collection of impressionist artwork. This is the best area to stay in Paris.
You probably won't find many budget deals in this neighborhood, but it's perfect for splurging on a luxurious vacation. Major Metro sops include St. Germain des Pres, Saint Sulpice, and Odeon.
Read more: PROTEIN SHAKE: BEFORE OR AFTER A WORKOUT?
7th SEPTIEME
Septieme is located on Rive Gauche and is in the heart of Paris. It offers a perfect mix of cultural and historical sites; being the heart of Paris makes it unique. It attracts more visitors than any other neighborhood, and most importantly, it contains the mighty Eiffel tower or the Grand Iron Lady. If you are looking for where to stay in paris for one night then this is not to be missed. More people like to dine at the foot of the Eiffel tower and want to stay near it as it provides marveling exceptional views of the Eiffel Tower.
According to the comments taken from Persian or regular tourist, this is the safest and most prestigious area of Paris. One more thing doesn't miss The Jules Vernes Restaurant, which is located on the second floor of the Eiffel Tower and is open throughout the week, run by Michelin-starred chef Alain Ducasse. It costs 115 dollars per person without wine, and you need to have it reserved two months before.
Exploring more The Champ De Mars Gardens surrounding the Eiffel tower gives you a real feel of the Persian lifestyle.best This is one of my favourite locations to stay in Paris. My advice to the first-time visitor would be to stay in this neighborhood because it contains world-class restaurants or everything you need to visit is available in this arrondissement.
18th MONTMARTRE
Another neighborhood checkout in Paris is Montmartre. Montmartre is usually referred to as a village, with winding uphill streets and fewer cars in the rest of the city. It is the 18th arrondissement, where you find the Sacre Coeur Basilica and Place du Tertre square filled with artists. If you are a fan of Von Gogh, Montmartre is the first place you should check out. This area used to the place where he and Renoir called home. As you walk the street, you will notice that this is the area of many of Van Gogh's most famous works.
If you want to see the very apartment where Van Gogh imagined many of his iconic works and bought them to life, you can even visit his 19th-century residence in Montmartre. This place is actually where Pablo Picasso got his start and many famous artists in Paris.
Read more: How To Be a Badass | What are Some Badass Things To Do
This arrondissement borders the Pigalle area, home of the Moulin Rouge in the city's red-light districts. While it makes the location not so ideal for families, but the site is pretty safe. Some of the trendiest bars have moved up here, locally referred to as "SoPi" after London's famous Soho.
The 18th offers cheaper accommodation than the other arrondissement listed here, saying a thanks to its reputation as a working-class, diverse neighborhood would not be wrong. However, if you select the 18th, make sure to stick to the southern part of the arrondissement in Montmartre. The major Metro stops include Abbesses and Anvers.
Final Words
Paris is a large city, so there are tons of other areas to check out in addition to these neighborhoods; however, we recommend staying in one of these areas if you're looking to experience Paris's main local attractions and culture.
There is no doubt that Paris is a relatively safe city to my audience but do take precautions. You never know what is going to happen in the future, especially advising to my female audience. I see the curiosity to explore as a never-ending disease but do remember not to visit these pinpointed neighborhoods late at night as they might not be welcoming for you. Communities like Goutte D and especially areas near Metro stops Barbes Rouche chouart, Chateau Rouge, and some regions around Gare Du Nord train stations are famous for street crimes.
However, I would like to tell you that Paris is a place not to be missed in my concluding remarks. So if you're looking for where to stay in Paris then these are the best places. It does not matter that you know the French language or not, the people over here would always greet you with their particular traditional style. Due to corona, these sites were abounded and went quiet, but now these have been reopened for the visitors. I hope you enjoy these places.
Stay healthy and stay safe!!
best area to stay in paris
best arrondissement to live in paris
best neighborhoods in paris to live places to stay around paris
paris
places to stay near paris
staying in paris
travel
What is the best location to stay in Paris?
where to stay in Paris
where to stay in paris on a budget